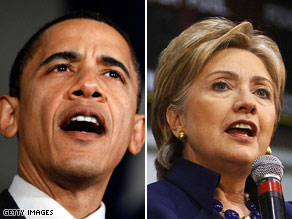 Exit polls are showing that Obama appeals to younger voters while older voters prefer Clinton.
(CNN) - Early exit polls indicate a distinct "age gap" in the two biggest states holding Democratic primaries today: Sen. Barack Obama appeals most strongly to younger voters, while older voters favor Sen. Hillary Clinton.
Among Ohio Democratic primary voters aged 17 to 29, 67 percent went for Obama, 32 percent for Clinton. Among those aged 60 and older, Clinton leads Obama 67 to 31 percent.
The same pattern holds true in early exit polling from the Texas Democratic primary: Among voters aged 18-29, Obama leads Clinton 61 to 39 percent. Among voters age 60 and older, Clinton leads Obama 63 to 36 percent.
–CNN's Joe Van Kanel