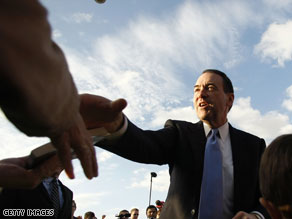 DALLAS, Texas (CNN) - Mike Huckabee would like to stay in the Republican race, says his campaign director Ed Rollins, who adds: "we're not going to run a fool's mission."
Rollins says the campaign does not plan on making any announcements about Huckabee's fate until they sift through the Texas results. Not only do they want to make sure Senator John McCain has the 1,191 committed delegates he needs to secure the nomination, they want to see if Huckabee can eat into the double-digit lead McCain held in polls going into Tuesday's Texas race.
Earlier, Huckabee told reporters outside a Texas polling station that his campaign was still hoping for a win in the state, but that either way, they would take Wednesday to assess the landscape and plan their next move. One aide said as late as Monday night that the campaign was looking into events in Mississippi.
But if McCain does become the official nominee, Huckabee says he will definitely back his Republican rival. He has also made it clear he will not try to run on a third party ticket. As for what the future could hold if Huckabee's hopes for an upset in Texas are dashed: Rollins won't rule out another try for the White House in 2012.
- CNN's Mary Snow