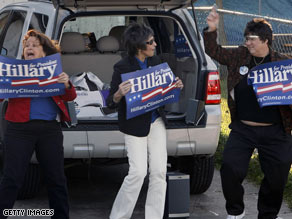 Clinton supporters wave signs and dance.
(CNN) - On a conference call with reporters earlier today, the Clinton campaign said they believed they finished strong ahead of the Texas and Ohio primaries.
According to the Ohio and Texas exit polls at least, they're right. Clinton holds roughly a 10-point advantage over Obama among those in Ohio who decided who to vote for in the last three days. Among those voters who decided before that, Clinton and Obama are split.
In Texas, Clinton holds even a larger advantage among late deciders. Those who decided in the last three days went for her by 23 points over Obama, 61 percent to 38 percent.
What happened in recent days? Clinton had a strong debate performances in both Texas and Ohio on Thursday, she appeared on Saturday Night Live over the weekend and The Daily Show Monday night, she launched her now famous 3 a.m. ad, and she hit Obama hard over an adviser's conversation with a Canadian official on NAFTA.
–CNN Senior Political Analyst Bill Schneider