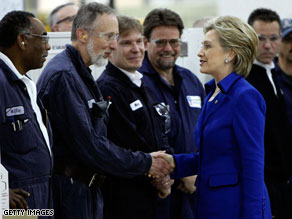 Sen. Hillary Clinton greets employees during a tour of the General Motors Allison Transmission Plant.
(CNN) - Education level remains one of the biggest dividing lines in the Democratic race, and is clearly playing a role in the Ohio primary tonight.
Among those who reported that they attended college, Obama bested Clinton by 7 points. But among those voters who did not go to college, Clinton holds the clear advantage over the Illinois senator, 62-37 percent.
Blue collar voters have long constituted the core of Clinton's base and - in Ohio at least - they are sticking with the New York senator.
–CNN Senior Political Analyst Bill Schneider