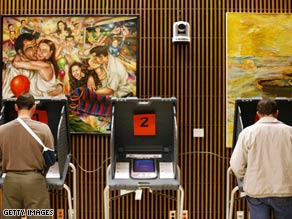 Two Texans cast their ballots in Austin.
(CNN) - You may have noticed Barack Obama and Hillary Clinton talked a lot more about NAFTA in Ohio then they did in Texas. In TV spots, in mailers, and on the stump, both candidates criticized the trade agreement constantly in Ohio, but didn't mention it nearly to the same degree in Texas.
Why? Well, the trade agreement is undeniably unpopular in Ohio: according to the exit polls, 81 percent of Democratic primary voters there said the trade agreement was responsible for job loss in the state. Only 10 percent said it led to job creation.
But in Texas, voters don't seem nearly as negative in their views of the trade agreement: 58 percent of today's Texas Democratic primary voters think NAFTA has caused jobs to be lost, while 24 percent say it's created jobs - a more mixed opinion than in Ohio.
Most Texas Democrats may hold an unfavorable view of NAFTA, but nearly a quarter of them give it positive marks - which means it's a lot safer to criticize the measure in Ohio than it is there.
- CNN Senior Political Analyst Bill Schneider