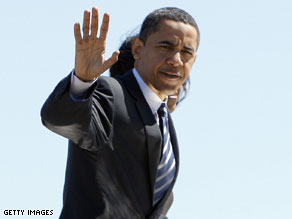 (CNN) – Barack Obama is headed for an easy victory in Vermont, fueled by overwhelming victories among voting blocs that have solidly aligned with Hillary Clinton in other states.
Though women voters and seniors are the backbone of Clinton's support, in Vermont more than two-thirds of women, and roughly 60 percent of voters age 65 and higher, went for Obama.
One of the key reasons this groups went for Obama? The Iraq war. While the issue has fallen in importance among voters in several other states, Vermont voters ranked it nearly as important as the economy, and those who said it was the number one issue went for Obama over Clinton by nearly 3 to 1.
Obama often touts the fact he was initially opposed to the Iraq war while Clinton voted to authorize it. He has consistently beaten Clinton among voters concerned about Iraq - and in Vermont, this gap clearly proved decisive.
Related Video: Deputy Political Director Paul Steinhauser analyzes Tuesday's primaries
- CNN Senior Political Analyst Bill Schneider