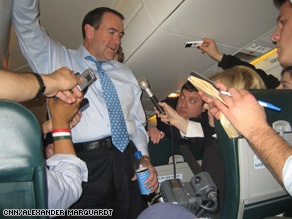 Huckabee reflected on his presidential bid after dropping out Tuesday night.
LITTLE ROCK, Arkansas (CNN) – A smiling and upbeat Mike Huckabee huddled with his traveling press corps one last time on the flight home to Little Rock following his exit from the 2008 presidential race.
"Clearly, things didn't go our way tonight and we had hoped they would, but when the inevitable is staring you in the face, you accept it," Huckabee told reporters.
He had long said he would stay in the race until someone got the 1,191 delegates needed to clinch the nomination. When it became clear tonight that McCain would, the former Arkansas governor decided it was time to bow out.
"Ohio and the other states weren't close," said Huckabee, "it was pretty obvious, I'd been through a lot of elections before. I know when one is on its way to being close and when one isn't. This one wasn't."
Before addressing supporters at his primary night party outside Dallas, Huckabee called McCain to congratulate him. "I complimented him on running a very civil and honorable campaign and remarked to him I thought he was very noteworthy that we had gone through this entire process very civil toward one another and that there had never been hostility between our campaigns," said Huckabee.
Huckabee is expected to endorse McCain, having always said he would back the Republican nominee.
As for his own future? "Honestly, I'm not looking past tomorrow. I'm a young guy, relatively speaking, so who knows what the future holds?" asked Huckabee.
The press had plenty of suggestions. VP? "I do wouldn't expect it." TV host? "If the phone rings I'll be willing to answer it." Bassist for the Rolling Stones? " Call Mick and Keith and tell them I'm available."
Asked how he hopes his campaign to be remembered, Huckabee responded that he wants people realize to it's not about the money. "They kept saying I couldn't last because I didn't have the money. I think I've proven that point to be wrong, dreadfully wrong. And I'm glad of that, because I hope in the future that people will run on their ideas and not just their checkbooks."
- CNN Political Producer Alexander Marquardt