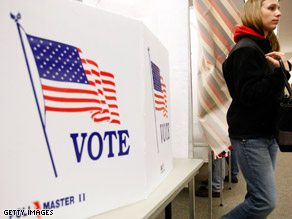 Advisors to Obama and Clinton on Monday discussed the possibilities of re-voting in Florida and Michigan.
(CNN)— Controversy surrounding the results from Michigan and Florida's primaries continued Monday as both Democratic campaigns make their pitches for how the Democratic National Committee should handle the situation.
Senior Clinton Campaign Adviser Ann Lewis told CNN in an interview Monday, the DNC should recognize and respect that such large numbers of Democrats came out to vote.
Michigan and Florida were stripped of their delegates when they scheduled their primaries before February in violation of DNC rules. However, given the unexpected close nature of the Democratic race some party leaders are calling for a 'do-over' in both states.
Barack Obama's Communications Director Robert Gibbs told CNN's John Roberts the Obama campaign is waiting to see what the DNC decides is 'fair and reasonable.'
"We've said since the beginning that we unlike others would play by the rules that have been established," Gibbs said in an apparent strike at the Clinton campaign.
None of the candidates campaigned in either state and Hillary Clinton was the only major candidate to appear on the Michigan ballot.
DNC Chairman Howard Dean said the decision is ultimately up to state leaders—assuming the Obama and Clinton campaigns feel the resolution is fair to both sides.
"I have to run these rules so that the losing side feels it's been treated fairly," Dean said on ABC's "This Week," adding that he has discussed possible solutions with Michigan Sen. Carl Levin and Florida Sen. Bill Nelson.
Related: Ann Lewis says Michigan and Florida's votes should be recognized

Related: Robert Gibbs says the Obama campaign is playing by the rules
–-CNN's Emily Sherman