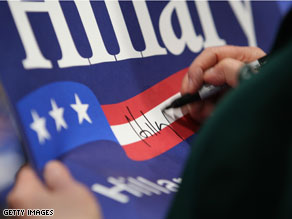 The race between Hillary Clinton and Barack Obama now looks like it could stretch on for months and is becoming increasingly bitter.
The Wall Street Journal reports groups that for months have energized the Democratic campaign – like blacks, women and young voters – are "increasingly sniping" at each other. They point out that more Republicans now say they're satisfied with John McCain than Democrats are with either Clinton or Obama. This is a big change from January, when many more Democrats were satisfied with their choices.
Some Democratic activists insist that this is normal, and after the convention, "we will all come together." But not everyone is convinced. Strategist Donna Brazile says, "I am fearful; we are heading into uncharted territory", adding that the mood and tone of the campaign have shifted in the past few weeks.
To read more and contribute to the Cafferty File discussion click here