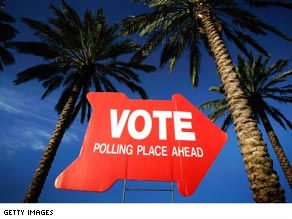 (CNN) - After the state was stripped of its delegates for changing the date of its primary, Florida's Democratic Party has proposed a combination mail-in vote and in-person election on June 3.
"The plan would be inclusive of all Democratic voters," according to a memo of the draft plan obtained by CNN that was sent to party leaders, including candidates Sens. Barack Obama and Hillary Clinton, and Democratic National Committee chairman Howard Dean. (Read full memo [PDF])
The estimated cost of the proposal would be between $10 million and $12 million, according to the memo which was sent to party leaders Wednesday night.
Florida voted on January 29 and Clinton won with 50 percent of the vote, compared with 33 percent for Obama.
Neither candidate campaigned there, though Clinton held a few permitted fund-raisers.
The Florida Democratic Party knew ahead of the primary that its delegates would not be counted because it violated party rules by scheduling the vote too early.
With Clinton and Obama locked in such a tight battle for delegates, Florida could play a key role in determining the Democratic nominee.
Florida Democrats in Congress came up empty-handed Tuesday as they searched for a way to let the state's voters help choose a Democratic presidential nominee.
Both a mail-in vote and a primary do-over were proposed, but political leaders have been unable to reach a consensus.