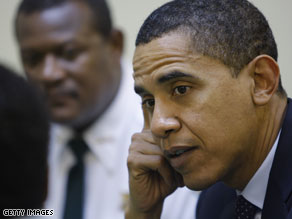 As a wise man once said, "it's getting ugly out there."
The Democratic primary race, which began as a rational discussion of the issues, has degenerated into a nasty and personal battle between Hillary Clinton and Barack Obama.
These kinds of fights leave scar tissue that can be tough to get rid of. And if the Democrats can't figure out how to patch things up in time for November, George Bush can just drop the White House keys in John McCain's mailbox. One Democratic pollster describes how they the Democrats might "take what is a golden year and turn it into dust."
So far, no sign of a cease fire. Just yesterday, the Clinton campaign suggested Pennsylvania will show that "Hillary is ready to win and that Obama really can't win the general election." Obama's campaign said these comments were "divorced from reality", ignoring both polls and the delegate math.
To read more and contribute to the Cafferty File discussion click here