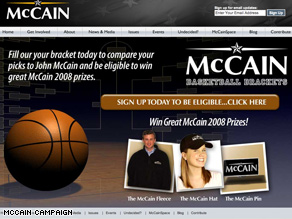 Hoops fan John McCain is calling on supporters to fill out their brackets.
(CNN) - Sen. John McCain takes March Madness seriously. The presumptive Republican presidential nominee is challenging his supporters to beat his NCAA tournament picks.
His presidential campaign Web site now includes a section where you can fill out your brackets for the NCAA tournament and compare them to his.
A scoreboard keeps track of how your picks stack up against McCain's, and prizes will be awarded to those with the top scores.
So who does the Arizona senator think will go all the way? Check back Thursday – he's keeping his brackets a secret until after the games begin.
Last year he kept it on the safe side, picking the four No. 1 seeds – Kansas, Florida, Ohio State and North Carolina - to reach the final four, with North Carolina finishing first over Kansas.
Florida ended up winning it all, beating Ohio State 84-75.
–CNN.com's Kristi Keck