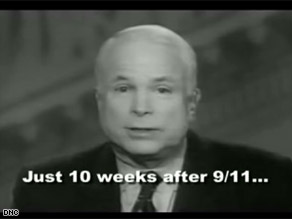 The DNC is taking aim at McCain.
(CNN) - While Hillary Clinton and Barack Obama continue to battle it out for their party's presidential nomination, the Democratic National Committee is taking aim at the presumptive Republican nominee, John McCain.
In a Web video released Tuesday, the DNC seeks to portray the Arizona senator as "in lockstep from day one" with President Bush on Iraq. The one-minute video highlights several sound bites in support of the war from Bush, as well as former Secretary of Defense Donald Rumsfeld and Vice President Dick Cheney. It then shows McCain making nearly identical comments.
"After five years, we don't need a third Bush term," the ad states. "Bush and McCain: wrong then, wrong now."
The video's release comes a day before the five year anniversary of the start of the war.
- CNN Ticker Producer Alexander Mooney