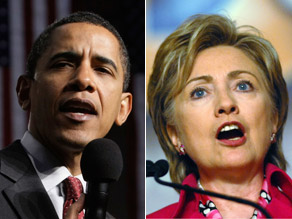 Clinton's lead has narrowed in Pennsylvania.
(CNN) - Hillary Clinton holds a 9 point lead over Barack Obama in the crucial state of Pennsylvania, a margin that is slightly narrower than that found in a similar poll released earlier this month.
In the just released Quinnipiac University Poll, Clinton draws 50 percent of support from likely Democratic voters in the state while Obama gets 41 percent. In a similar poll taken two weeks ago, Clinton was at 53 percent and Obama was at 41 percent.
The poll was conducted March 24-31 and carries a margin of error of plus or minus 2.5 percentage points. It comes days after popular Pennsylvania Sen. Bob Casey endorsed Obama - though most of the poll was conducted before that announcement.The poll also shows a large split among white and black voters in the state - Clinton is winning the votes of nearly 6 in 10 white Democrats while Obama is drawing three quarters of the black vote.
The two also remain strong with constituencies that have favored them in past states: Clinton is doing well with women and older voters while Obama is strong with young voters. The two are approximately even among males.
A convincing win in Pennsylvania is seen as crucial for Clinton as she seeks to end the primary season with enough momentum to swing the majority of undecided superdelegates her way.
With an electorate that seems to favor Clinton, the Obama campaign has consistently lowered its expectations there, though it is heavily outspending her on television advertising.
- CNN Ticker Producer Alexander Mooney