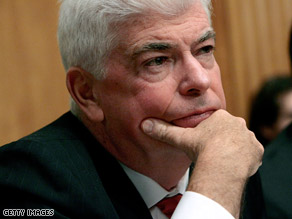 Dodd is an Obama supporter.
(CNN) - Sen. Chris Dodd on Thursday appeared to step back from his previous suggestion that the presidential race should end before many of the final round of primaries play out.
In an interview with CNN's John Roberts, Dodd - a supporter of Barack Obama - said he thinks the race will end when "the candidates decide they can't go any further.
"The last thing you want to do is lecture candidates to get out of the race," Dodd also said.
Those comments appear to differ from his remarks last week in an interview with the National Journal during which he argued an agreement should be worked out after the upcoming contests in Pennsylvania, Indiana, and North Carolina.
"Over the next couple of weeks, as we get into April, it seems to me then, that the national leadership of this party has to stand up and reach a conclusion," Dodd said then, adding it was a forgone conclusion Obama would be the Democratic nominee.
But in the interview Thursday, Dodd continued to warn against a floor fight at the party's August convention.
"If you go [to the convention] highly divided, with eight weeks to go before national election, you will lose the national election," he said. "This matter has to be resolved in my point before we get there.
Related: Watch the full interview with Sen. Dodd
- CNN Ticker Producer Alexander Mooney