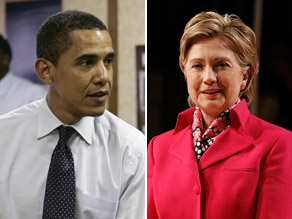 Obama and Clinton are statistically tied in Indiana.
(CNN) —A new statewide poll in Indiana shows a statistical dead heat between Sens. Hillary Clinton and Barack Obama ahead of the state's May 6 primary.
The poll, conducted from March 31 through April 2 by Research 2000, shows 49 percent of the likely Democratic voters would favor Clinton and 46 percent would favor Obama if the states primary were held today. With the polls margin of error of plus or minus 5 percentage points, the two candidates are statistically tied.
Indiana voters are particularly divided among age: Obama beats Clinton 63-36 percent among 18 and 29 year-olds while those 60 and older favored Clinton, 60-34 percent.
Should Clinton win the April 22 Pennsylvania primary, Indiana is expected to become the next decisive battleground in the fight for the Democratic nomination.
Both candidates have strong endorsements coming from the state. Sen. Evan Bayh and former Representative John Brademas have both put their weight behind the New York senator. Earlier this week, Obama won the endorsement of two leading former Indiana congressmen; Lee Hamilton and Tim Roemer. Both hold significant foreign affairs and national security credentials.
Obama, who is the only presidential contender with an ad airing in Indiana, is expected to be introduced by Robert F. Kennedy's widow, Ethel, at a speech today in Ft. Wayne, Indiana. Sen. Robert Kennedy carried the state by a small margin in the 1968 elections.