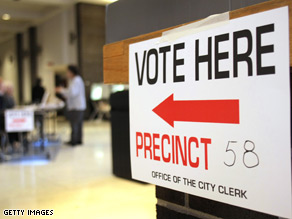 Michigan voters participated in the states primary on January 15.
(CNN) - Michigan Democrats will not to go to the polls again to choose a presidential nominee, even though the national party has refused to recognize the results of their vote in January, the party announced Friday.
"We have concluded that it is not practical to conduct such a primary or caucus," the state party's executive committee said in a written statement. But they added they will continue to work with the Democratic National Committee and elected officials to ensure that the state is represented at the party convention in Denver this August.
Michigan Democrats held their primary earlier than national party rules allowed. The Democratic Party responded by refusing to seat Michigan's delegates at the convention.
Many Democratic candidates, including Sen. Barack Obama, removed their names from the Michigan ballot after the DNC's decision, leaving Sen. Hillary Clinton as the only major contender in the state.
Clinton got 55 percent, while 40 percent of the state's voters opted for "uncommitted."
Clinton said Friday the party had to find a way to avoid "disenfranchising" 600,000 Michigan voters. "Those votes have been cast…. So the Democratic party is going to have to come to grips with whether or not we want to be like the Republicans and disenfranchise people or whether we will stay true to the voting-rights record of this party."