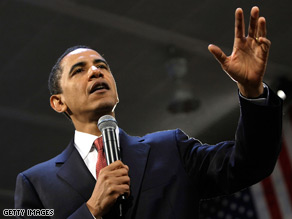 Obama pays tribute to the late Dr. King in Indiana.
(CNN)—Sen. Barack Obama said Friday he is still paying tribute to the late Martin Luther King despite his absence from Memphis, Tennessee where Sens. Clinton and McCain are marking the 40th anniversary of the civil rights leader's assassination.
Obama told reporters he was not worried about how his absence would be perceived. "I spoke at Dr. King's church on his birthday. I gave a fairly fulsome speech on the state of race relations just two weeks ago, and I think it's important to spread the message that Dr. King's work is unfinished in places like Indiana and North Dakota," he said.
Obama is marking the anniversary of the civil rights leader's death in Indiana, where Robert Kennedy broke the news of King's assassination to a campaign trail gathering in a landmark 1968 speech.
"And in few places was the pain more pronounced than in Indianapolis, where Robert Kennedy happened to be campaigning," Obama told an Indiana crowd Friday. "And it fell to him to inform a crowded park that Dr. King had been killed. And as the shock turned toward anger, Kennedy reminded them of Dr. King's compassion, and his love. And on a night when cities across the nation were alight with violence, all was quiet in Indianapolis."
Related: Watch Rev. Jesse Jackson and Rev. Al Sharpton disscuss the 40th Anniversary of Martin Luther King's assassination.