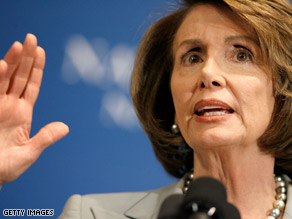 Pelosi is sticking to her superdelegate argument.
WASHINGTON (CNN) - In wake of the new jobs report, Speaker Pelosi and other House Democratic leaders are calling on President Bush to work with Congress on another economic stimulus package.
"Today's disturbing unemployment numbers, combined with Chairman Bernanke's recession warning, and threats to our standard living because of the rising costs of gas, groceries and health care compels the President to work with Congress on a second stimulus package to get our economy back on track, create jobs, and speed assistance to families struggling to make ends meet," Pelosi said in a written statement.
Pelosi added, "When congressional leaders meet with the President next week, I will urge him to refocus his attention on America's economy and to again work in a bipartisan manner on a new stimulus package. We need to work together to restore consumer and market confidence, to assist millions of Americans threatened with the loss of their homes, and to help families meet the rising costs of necessities
House Democratic Caucus Chairman Rahm Emanuel, D-Illinois, said, "We need an economic program that rebuilds America and offers real help to the middle class. The Democratic Congress will now begin work on a second stimulus package to help American families and get our economy back on track."
A Democratic leadership aide says House leaders have been discussing the need for another stimulus, but have not reached any decisions on what they want included in it. Some measures likely to be considered include funding for infrastructure projects, unemployment assistance, and food stamps.
A House GOP leadership aide said it's too early to talk about another stimulus bill. "It's still a couple of weeks until the checks from the last stimulus bill hit people's mailboxes. If they [the Democrats] have ideas on things to help the economy we're happy to talk to them, but we see no need for additional legislation at this point."
Congressional sources note that bipartisan Congressional leaders are already scheduled to meet with President Bush on Wednesday afternoon at 3 p.m. Earlier this week, Speaker Pelosi called on the President to schedule a high-level meeting on the economy soon.