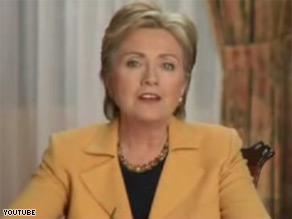 Hillary Clinton aims to answer voter concerns in North Carolina through a series of ads.
(CNN)— Senator Hillary Clinton's campaign released the second of a series of "NC Ask me" ads aimed at answering North Carolinian voter concerns.
The ad called "Tammie" comes one week after Clinton invited North Carolian's to ask her "anything and everything."
Tammie Bright, a working mother of three from Cherryville asks Clinton: "What are your plans on reducing the rising cost of gas?"
Clinton responds that she would "invest $150 billion in research and development of new kinds of energy."
"Let's put more hybrid vehicles on the fast track. And when we create new clean energies and technologies, we'll be creating new jobs right here in North Carolina."
According to Clinton's campaign, they have received nearly 10,000 responses to their request for voters to submit their questions online. The campaign says that staff and volunteers will reply to each submission regardless of whether the query is chosen for an ad.
Click here to watch Clinton's new North Carolina ad: "Tammie."