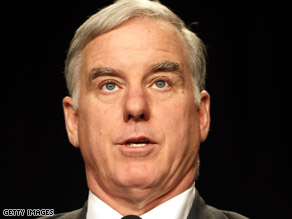 DNC Chairman Howard Dean.
WASHINGTON (CNN) - The Democratic Party on Monday filed a lawsuit against the Federal Elections Commission seeking to force the group to investigate whether John McCain has violated federal spending limits for his primary campaign.
The lawsuit, which was filed in the United States District Court in Washington, is the latest move by the Democratic National Committee that seeks to prove the Arizona senator locked himself into campaign spending limits earlier this year when he used the prospect of $6 million in federal matching funds as collateral for a December bank loan to his campaign.
The DNC first filed a complaint with the FEC in February, arguing then that McCain should be forced to accept the matching funds - and the spending limits that come with it.
DNC Chairman Howard Dean said that McCain not only used the prospect of the funds as loan collateral, but he also accepted automatic ballot access in every state - an advantage given to those who accept federal matching funds. (Those who do not accept federal matching funds are forced to gain ballot access themselves - a task that can cost millions of dollars.)