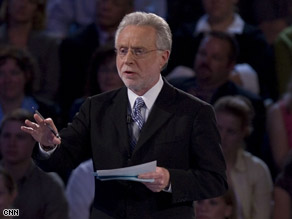 (CNN) - All you political news junkies out there who watch a lot of cable news programs may have to suffer a bit of withdrawal in the coming days. That's because we will be spending a lot of time focusing in on Pope Benedict XVI and his historic visit to the United States.
Needless to say, it's not everyday that a Pope comes to this country.
Every minute of his trip has been carefully planned. We will be covering a lot of it live.
The Washington Post reports that 5,000 members of the news media have converged on the nation's capital to report on the events, including the Wednesday morning meeting with President Bush at the White House and Thursday's mass at the new Washington Nationals' baseball stadium. It's then on to New York on Friday for an address to the United Nations and a second mass at Yankee Stadium Sunday afternoon. He then returns to Rome.
We certainly won't ignore the political news now that we are only a few days away from next Tuesday's critical Democratic presidential primary in Pennsylvania. We know you have come to count on us for that. The political stakes are enormous.
The Pope's visit is a powerful story that goes beyond politics. Still, there will be plenty of political overtones surrounding the visit. Several sensitive issues, including the war in Iraq, abortion, global warming, AIDS in Africa, for example, are likely to come up. And as you know, there's always some political fallout when discussing those issues.