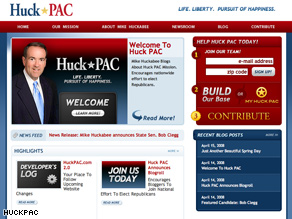 Huckabee's new PAC is supporting conservative candidates.
(CNN) - In a widely-expected move, former Republican presidential candidate Mike Huckabee officially launched his new political action committee, HuckPAC, Tuesday at noon.
According to a statement released Tuesday, the new PAC will "raise funds for Republican candidates and continue promoting the principles and ideas of conservative, smaller and more responsible government."
The former Arkansas governor, who recently signed with Hollywood talent agency CAA, is also launching a new Web site that will plug candidates he is backing, collect donations for those candidates, and "allow supporters to post ideas and continue to be a part of Huckabee's national network."
Huckabee said earlier this month that he would consider another run for the presidency in 2012.