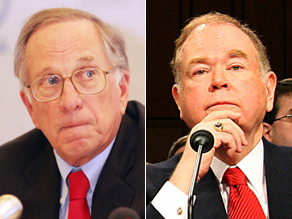 Nunn and Boren endorsed Obama Friday.
(CNN)—Former Senators Sam Nunn and David Boren endorsed Barack Obama's candidacy Friday and accepted the invitation to serve as advisors on his National Security Foreign Policy team.
"I believe that Senator Obama has a rare ability to restore America's credibility and moral authority and to get others to join us in tackling serious global problems that will determine our own well being and security," Nunn said in a statement.
Senator Nunn served as chairman of the Senate Armed Services Committee for 10 out of his 25 years in the Senate. Senator Boren was the longest-serving Chairman of the Senate Select Committee on Intelligence and one of President Bill Clinton's top choices to replace Les Aspin in 1994 as U.S. Secretary of Defense. Between the two, they have nearly 60 years of high ranking Senate experience.
Boren said in a statement, "Our most urgent task is to end the divisions in our country, to stop the political bickering, and to unite our talents and efforts," citing Obama as the best Candidate to do so.
Throughout their time in the Senate, Nunn and Boren were known as two relatively conservative Democrats. Obama said he is honored to have them as part of his team.
"Both of these men will be important sources of advice and counsel for our campaign in the months ahead," Obama said in a statement.