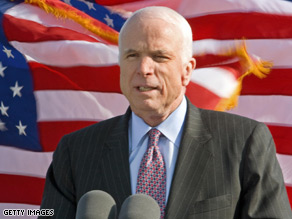 McCain aids describe their general election strategy
(CNN) - As the Democratic primary battle stretches long into spring, John McCain's campaign said Friday it has already set up its general election structure.
The staff has grown from 100 to 150, the polling team has been set up, and a new speechwriter has been hired, campaign manager Rick Davis told reporters in a briefing that included top McCain advisers. The size of the campaign's media operation has also tripled.
The presumptive nominee now also has a "Victory Chair" in every state in charge of local fundraising. The goal: to convince supporters to contribute as much as $70,000 to his White House run through donations to his campaign, to the national party and to special committees set up to help get out the vote efforts in a handful of key swing states.
McCain's campaign, which has been outpaced in the fundraising race by both his Democratic opponents, raised $15 million in March and has $10 million in the bank. This week, it reached the 200,000-donor mark.
Davis said new regional campaign managers had joined the staff, and that different plans had been crafted to deal with Barack Obama or Hillary Clinton candidacies.
"We have no preference" between the two, said senior strategist Charlie Black. "I'm not sure that one is easier than the other."