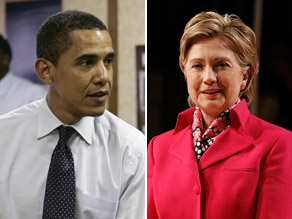 The Pennsylvania contest's final days are turning into a slugfest.
(CNN) - Hillary Clinton and Barack Obama haven't crossed paths yet during their weekend barnstorming across Pennsylvania. But they've been constant campaign trail companions, as each invokes the other at virtually every whistle-stop during the final blitz before Tuesday's primary vote.
Clinton has attacked Obama for his recent comments about some small town Americans, his heath care plan, and his relative Washington inexperience – which she argues makes him unprepared to lead the country in a crisis.
Obama has taken aim at Clinton over her acceptance of money from political action committees, her health care plan, and her Washington experience – which he argues makes her unprepared to bring real change to the city.
But the most-often repeated charge, the one that makes an appearance at virtually every stop, is: negative campaigning.
"I just heard that my opponent has put out an ad attacking my health care plan, which is kind of curious because my plan covers everybody, and his leaves out 15 million people, just leaves them out in the cold," said Clinton at a campaign rally in York Saturday. "Instead of attacking the problem he chooses to attack my solution."
For his part, Obama accused Clinton of looking to create "fake controversy" around him in the race's final days.
"In the last few months, she's launched what her campaign calls a 'kitchen sink' strategy of negative attacks, which she defends by telling us that this is what the Republicans would do. She says that's how the game is played," he told a Philadelphia crowd.
In Paoli, Pennsylvania, he accused her of "slash and burn politics."
The New York senator, he said at an appearance in Wynnewood, was "throwing everything at me and seeing if something sticks," which he called a GOP tactic.
In response, Clinton spokesman Phil Singer e-mailed reporters a link to a quiz on the campaign's Web site that asked them to decide who had made a given quote attacking Clinton: a member of Obama's campaign, or a Republican.
The charges and countercharges aren't limited to the candidates' stump speeches. Over the past three days, both have launched negative robo-calls, tough mailers, and matching attack ads on special interest influence over their opponent. And on dueling conference calls, surrogates have used some of the race's harshest language to date.
On an Obama conference call with reporters Saturday, Gen. Walter Stewart said Clinton's misstatements about her trip to Bosnia as First Lady mean she "lacks the moral authority" to lay a wreath at the Tomb of the Unknown Soldier.
At a campaign event at Pennsylvania's California University shortly after the call, Clinton said that the Illinois senator "always says in his speeches that he is running a positive campaign – but then his campaign does the opposite."
Later, Clinton communications director Howard Wolfson sent reporters a memo charging that Obama had "has flooded airwaves, radio, phone lines and mailboxes with negative and false attacks against Hillary" in the previous 48 hours, calling Stewart's remarks "the most outrageous attack of the campaign."
The tough words underlie the high stakes, and the closeness of the race. After leading by 20 points just a few weeks ago, Clinton's lead has shrunk to the single digits in the most recent CNN Pennsylvania Poll of Polls, an average of recent campaign surveys. Clinton, who has some roots in the state's northeast corner, has a strong base in the state: solid support from working-class white voters, Catholics and seniors, in a state where all three are powerful and potentially decisive voting blocs.
But a record level of new voters and party-switchers in Pennsylvania – the most in any primary contest, and second in number only to the 2004 general election – have propelled Obama into contention here. On Friday, he drew an estimated 35,000 – the largest crowd of his campaign - at an outdoor rally in Philadelphia.
The risk for both is that supporters may be turned off by the race's negative tone – a danger both recognize.
"You've been watching this campaign for a couple weeks, at least here in Pennsylvania, and let's face it, it's not pretty," Obama acknowledged Saturday in Paoli. "But the issue is not whether people are saying nasty things. The problem is that it's a distraction from solving the problems that have to be solved."