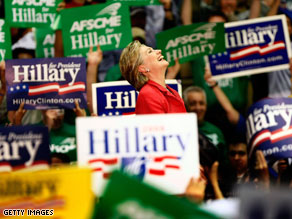 FROM CNN's Jack Cafferty:
The winner of today's contest may not necessarily be the candidate who gets the most votes. In other words, all eyes will be on the margin of Hillary Clinton's victory, provided that she wins as expected.
The Los Angeles Times suggests Clinton could win but still lose. If Obama keeps the results closer than expected, he could be considered the winner. Some uncommitted superdelegates say Clinton needs to win by at least 10 points to show she hasn't lost her touch among working-class voters in a state like Pennsylvania.
If Clinton can pull that off in a state where she was outspent by more than 2-to-1, she can then try to persuade uncommitted superdelegates to support her. But if Obama keeps it close or delivers an unexpected win, the pressure will mount on Hillary Clinton to give it up.
To read more and contribute to the Cafferty File discussion click here