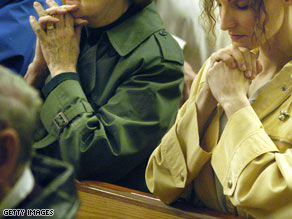 Parishioners at Our Lady of Mount Carmel Catholic church in Doylestown, PA.
(CNN) - Hillary Clinton stressed her gun and church-going credentials following Barack Obama's "bitter" comments, and it appears to have paid off.
According to the exit polls, 58 percent of gun owners voted for Clinton while 42 percent went for Obama.
Among Pennsylvania Democrats who attend church at least once a week, Clinton is beating Obama 59 percent to 41 percent.