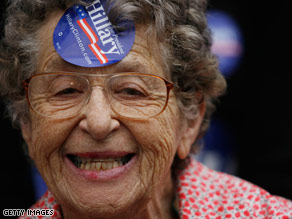 A woman shows her support for Hillary Clinton during a campaign rally in Pittsburgh.
(CNN) - Pennsylvania's Democratic electorate is remarkably similar to Ohio's - a state where Clinton won by 10 points on March 4.
But a look at the exit polls shows Pennsylvania voters are significantly older than those who voted in Ohio's primary - a fact that will likely give Clinton a boost.
Twenty-seven percent of voters in Pennsylvania were over the age of 65. In Ohio, those voters only made up 14 percent of the electorate.
Seniors have consistently supported Clinton overwhelmingly and Pennsylvania is no different - she's winning 61 percent of voters 65 and over. Clinton did even better among Ohio seniors, winning 72 percent of their vote.