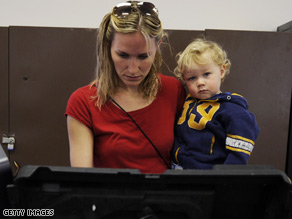 A voter casts her ballot in Butler, PA.
(CNN) - Who showed up to vote in the Pennsylvania Democratic primary?
The exit polls show the overwhelming majority were white (80 percent) and women significantly outnumbered men (58-42 percent.)
About 40 percent were over 60, while only 10 percent were under 30.
Nearly half came from families who earn less than $50,000 a year, while close to 25 percent came from households who made more than $100,000.
Fifty-five percent did not have a college degree; 45 percent did.
Forty-nine percent said they were liberal, 40 percent said they were moderate, and 11 percent said they were conservative.