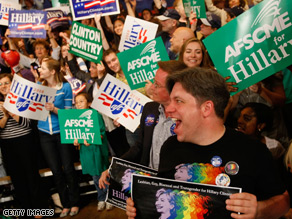 Clinton supporters cheer as they await her victory speech.
(CNN)—Pennsylvania's primary day turnout approached general election levels this year, state officials said Tuesday night.
The result comes on the heels of unprecedented Democratic voter registration in the months leading up to the presidential primary.
Voters in some counties participated at double and triple the level of the previous two presidential cycles – up to 60 percent in Clinton-supporting Allegheny County - although there is little basis for comparison, since the nomination had been essentially decided by the time the 2000 and 2004 primaries were held, so both were basically uncompetitive contests.
"This primary, at least to me, has felt almost like an expedited general election that came seven months earlier," said Pennsylvania's Secretary of State, Pedro A. Cortes. "That's about the best way to describe it."