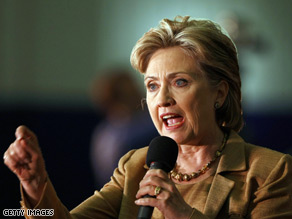 Hillary Clinton highlights differences with Barack Obama.
GREENVILLE, North Carolina (CNN) – Hillary Clinton went on a weekend offensive, aggressively highlighting her differences with Barack Obama to North Carolina and Indiana voters – accusing him of not supporting relief from high gas prices, saying his health care plan would leave 15 million people uninsured and telling crowds that Obama voted against stopping home foreclosures.
On Monday morning however, she struck a more conciliatory tone.
"We have some differences my opponent Sen. Obama and I, and those are perfectly legitimate. You know, no two people are alike, you can't expect two people running for president to have exactly the same positions," Clinton told supporters.
"Of course once we have a nominee we're going to close ranks and have a unified party because the differences between us as Democrats pale in comparison to the differences we have with Sen. McCain and the Republicans," she added.
Clinton still went after Obama for rejecting her gas tax holiday proposal but very lightly. Instead, the message was one of understanding that she and her advisors have been pushing in recent days.
"Let's listen to what people are telling us. I don't think folks in Washington listen enough. Because if we listened, we would hear this incredible cry – 'Please, just pay attention to what's going on in our lives.' You know what, I don't think they do but I don't think they know half the time."
Clinton spends Monday morning in North Carolina before heading back to Indianapolis where she will be through Tuesday night when the polls close in the May 6 contests.