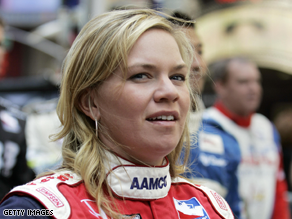 Sarah Fisher is backing Clinton.
(CNN) - If only Indy drivers were superdelegates.
The Clinton campaign on Monday touted the endorsement of Sara Fisher, the first woman to earn a pole position at an IndyCar series event.
"We need a president who will stand up for us and be a fighter for Hoosiers and all Americans," Fisher said in a statement released by the campaign. "Hillary will be a president who steers our country in the right direction and puts our economy back on track.
"Something Hillary and I have in common is our commitment to achieving our goals, leaving roadblocks behind and refusing to be knocked down," she also said. "Hillary is a doer and a fighter who keeps getting out there, going for the checkered flag."
Fisher has completed in six Indianapolis 500s and will try to qualify for her seventh this month.