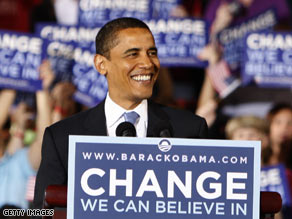 Obama held a conference call with Edwards delegates on Thursday afternoon.
(CNN) - After a morning spent courting superdelegates in Washington, Barack Obama convened a conference call Thursday afternoon to reach out to pledged delegates in South Carolina committed to former candidate John Edwards.
Two Edwards delegates on the call said Obama discussed his vision for the presidency and told the delegation he looks forward to working with them at the Democratic National Convention this summer.
Ed Turlington, an Edwards adviser from North Carolina who committed to Obama in April, participated in the conference call, as did former South Carolina Gov. Jim Hodges, an Obama backer.
Obama spokesman Bill Burton said the call was simply an opportunity for the Democratic frontrunner "to give folks an update on the campaign and a chance to ask questions."
Several South Carolina Democrats familiar with the Edwards delegation said a handful of the former senator's eight pledged delegates in the state are considering throwing their support to Obama.
Edwards finished third in the South Carolina primary on January 29 before dropping out of the presidential race. He was awarded eight delegates and one alternate delegate, all of whom were named last weekend at the state party convention in Columbia. Obama earned 25 delegates from his primary victory. Clinton won 12.
John Moylan, an Edwards confidante who was tapped as the alternate delegate to the convention, described the discussion as a little more than courtesy call.
"It was less suspicious than it sounds," said Moylan, who served as South Carolina state director for the Edwards campaign. "We made clear that we were committed to John Edwards."
"He basically told us, 'I respect your commitment to John Edwards, and I look forward to working with you guys,'" he said.
Moylan said Clinton associates have inquired about arranging a similar conference call, but that Clinton herself has not held any talks with the Edwards delegates.