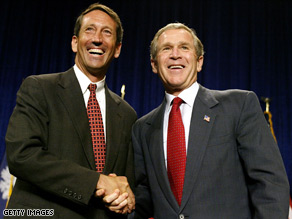 Mark Sanford poses for a picture with President Bush.
(CNN) – Mark Sanford might be considered a vice presidential prospect by some, but the South Carolina governor won't be appearing with John McCain when the presumptive Republican nominee arrives in the Palmetto State on Friday.
Sanford, a member of the Air Force Reserves, has reserve duty on Friday, a commitment that will keep him far away from McCain's press conference in Columbia this afternoon.
Joel Sawyer, a spokesman for the governor, said Sanford's wife Jenny will attend the McCain press conference as well as a big-ticket fundraiser in Columbia later in the day.
Despite the vice presidential speculation surrounding Sanford nationally, several McCain insiders in the state have privately downplayed the likelihood that he will tap Sanford, a staunch fiscal conservative, as a running mate.
McCain was asked about his vice presidential search process at a campaign event in New Jersey on Friday morning.
"There is a period where you just start looking at a large number of people," McCain responded, "and we are still at that stage."