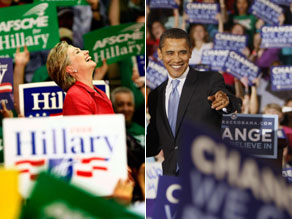 (CNN) - West Virginia exit polls appear to show the prolonged Democratic presidential race has produced a clear rift in the party, at least for now.
We asked supporters of both candidates whether they would be satisfied if the other candidate won the nomination. A large majority of both candidates' supporters said they would not: only 38 percent of Obama supporters said they would be satisfied if Clinton won, and only 25 percent of Clinton backers said they'd be satisfied if Barack Obama was the nominee.
Translation: There's a lot of reconciliation to be taken care of.