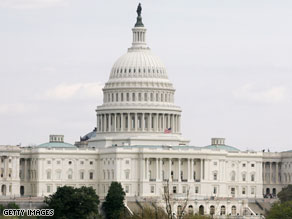 WASHINGTON (CNN) - House Republicans have changed their new slogan about change.
After losing a hotly-contested Mississippi congressional seat this week, their third straight special election defeat in a row, House GOP leaders planned a public relations offensive, including a rollout of a new agenda pegged to the slogan, "The Change You Deserve."
It turns out the phrase matched a tagline for the anti-depressant drug Effexor. As word of the similarity got out, Democrats had a field day ridiculing Republicans.
House Majority Leader Steny Hoyer, D-Maryland, told reporters Wednesday, "Democrats, not drugs, is what the American people need."
House Democratic Caucus Chairman Rahm Emanuel, D-Illinois, released a list of what he called the side effects of "Republican rule," including "nausea because what they did to the economy makes people sick to their stomach."
Asked Thursday morning if he was planning to change the slogan, House Republican Leader John Boehner said "No. I think it's working just fine."
But in an e-mail later that afternoon from GOP Conference Chairman Adam Putnam to House Republicans, the new agenda had a new name - "The Change America Deserves."
A memo sent out hours later from Boehner's political action committee to GOP candidates also included the new slogan.