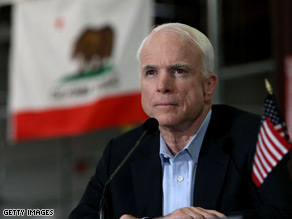 John McCain's doctor says there's no medical reason the 71-year-old should not be president. Health records released by his campaign today show he appears to be cancer-free, has a strong heart and is in good health.
McCain's been treated three times for melanoma, a potentially deadly form of skin cancer, and he was a prisoner of war in Vietnam for over five years.
Because he remains at risk for developing new skin cancers, he's checked every few months. Doctors say there's been no recurrence since 2000. McCain's cholesterol levels are a potential concern, and he takes medicine for that... but his blood pressure is good.
McCain has been treated for a range of health issues that are common in older people, like having pre-cancerous skin lesions and benign colon growths removed. He also has degenerative arthritis from his war injuries.
The Arizona senator shrugs off the age issue on the campaign trail by pointing to his stamina and his strong genes.
To read more and contribute to the Cafferty File discussion click here