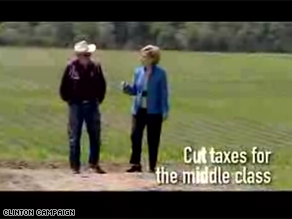 Clinton campaigned in Puerto Rico over the weekend.'
(CNN) - Hillary Clinton is hitting the television airwaves in Montana, five days before that state holds one of the primary season's last two contests.
The 30-second ad, called "Only One," is a largely positive spot that promotes the New York senator's plan to tackle the special interests in Washington.
"She's the only one in this campaign who voted against the Bush energy bill against six billion dollars to the oil companies, the only one taking on the insurance companies to guarantee health coverage for every American and she's the one who'll end fifty five billion dollars in giveaways to corporate special interests and cut taxes for the middle class instead," the ad's narrator states.
The American Leadership Project, a pro-Clinton independent group also launched an ad in the state earlier this week.
Montana and South Dakota hold the final two Democratic primaries next Tuesday. Barack Obama is widely viewed to have an advantage in both states.