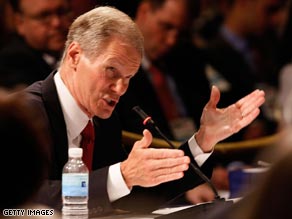 Sen. Bill Nelson, D-Florida, argues his point while speaking during the DNC meeting
WASHINGTON (CNN) - Florida Democrats presented a nearly-united front to the Rules and Bylaws Committee Saturday in favor of Jon Ausman's proposal that would allow half the state's delegates to be seated at the summer convention.
"Today I am here fighting for the right of Florida Democrats to have their voices heard," said state Rep. Arthenia Joyner, in remarks that repeatedly referenced Florida's experience during the 2000 presidential election.
She said that the effort to prevent a repeat of that experience by passing a bill calling for a paper trail for every ballot had ironically resulted in the complete disenfranchisement of the state's Democrats.
The measure that moved Florida's primary date to January 29 was attached to that bill.
The committee asked whether she was calling for the seating of all the state's delegates, or would accept the 50 percent solution offered by Ausman.
"In life you don't get everything you want, but I want it all!" Joyner said as many in the crowd cheered.
Florida U.S. Rep. Robert Wexler, an Obama supporter, said the state would need to accept a penalty for failing to abide by rules set forth by the national party.

"Our state acted outside of the rules of this committee. We cannot reverse the fact that this election was held months ago without a compliant delegate selection plan," Wexler said.
He urged the committee to accept Ausman's proposal - although he said the votes of superdelegates should be halved as well - saying that it had the support of both Clinton and Obama supporters and the state's Democratic leadership. Obama, he said, "offers this concession in order to prove reconciliation."
The crowd in the hotel ballroom where the meeting is being held began to grow restless during Wexler's remarks, with Obama supporters cheering and Clinton backers booing and hissing.
There are reports the committee is leaning towards accepting some version of Ausman's proposal, but some RBC members seemed skeptical, asking how seating of any delegates based on the January 29 vote would be fair to Florida Democrats who did not vote in the primary because the believed the committee's original ruling would make the contest meaningless.
Allan Katz - an RBC member who will not be allowed to vote on any Florida decision because he is a state resident - speculated that if the primary had been unsanctioned, as many as 3 million voters might have turned out.
Democratic turnout in Florida was heavy - about 1.75 million votes were cast, according to the Florida Department of State's Division of Elections - but lagged behind record rates in other primary states.