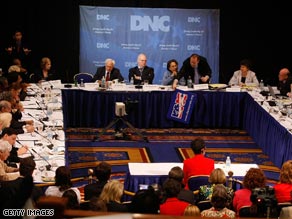 The DNC's Rules and Bylaws Committee meets in Washington, Saturday.
WASHINGTON (CNN) - The chairman of Michigan's Democratic Party called on the national committee's Rules and Bylaws Committee to seat Michigan's full delegation with full voting rights, and divide the pledged delegates between Sens. Hillary Clinton and Barack Obama, 69-59.
RBC member Elaine Kamarck, a Clinton supporter, told Michigan party chair Mark Brewer the proposal was flawed.
"My problem is willy-nilly, arbitrary assignment of delegates when we actually had a legitimate vote," she said.
Brewer responded that the party had not followed any set guidelines in determining the split - but had reached this compromise because "we have to do something in this situation; we can't do nothing. I wish there were more, I wish it were better, but it's all we have."
The dispute over the seating of Michigan's delegates is a thornier dispute than the dilemma over Florida's delegation. Clinton was the only major candidate who did not remove her name from Michigan's primary ballot following the RBC's decision last summer.
She won 55 percent of the vote in the state's January primary but 40 percent of the voters in that contest chose an "uncommitted" option on Michigan's ballot.
Exit polls found that an overwhelming majority of voters who took advantage of that option supported Obama, with most of the rest in support of former Sen. John Edwards' presidential bid.