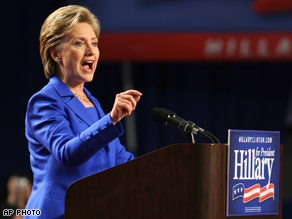 The New York Observer will endorse Clinton to be Obama's choice for VP.
NEW YORK (CNN) – With Barack Obama on the verge of securing enough delegates to become the presumptive Democratic presidential nominee, a New York newspaper signaled it will use its editorial page Wednesday to urge him to pick rival Hillary Clinton as his running mate.
The New York Observer informed the media Tuesday evening of its intention to endorse Clinton to be Obama's vice presidential pick. Prior to the New York primary on February 5, the newspaper threw its support behind Obama to be the Democratic presidential nominee.