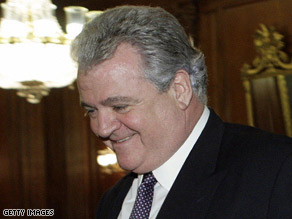 Brady remained neutral until tonight.
NEW YORK (CNN) – Pennsylvania Rep. Robert Brady endorsed Barack Obama for president Tuesday evening, putting the Illinois senator in striking distance of securing enough delegates for the Democratic presidential nomination.
Obama is expected to secure enough delegates by night's end to claim the nomination.
Brady, a superdelegate who stayed neutral in the 2008 primary battle between Obama and Hillary Clinton, told CNN he chose not to take sides in an effort to encourage the two candidates to participate in a presidential debate and party dinner earlier this year. Following the debate and dinner, Brady said he then decided it was best to "let the primary run out, and see what happens."
Clinton defeated Obama in the Pennsylvania primary held on April 22.
The congressman said Tuesday it was time for the party to come together and focus on defeating John McCain in November.