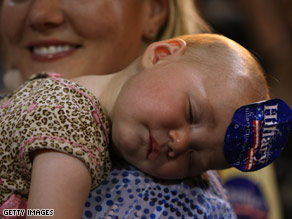 (CNN) - The youngest and oldest voters in South Dakota's Democratic primary overwhelmingly support their candidate – but as in many contests this primary season, both groups have landed on opposite sides of the Democratic divide, according to early exit polls.
The youngest voters, those aged 18-29, supported Barack Obama over Hillary Clinton, 65 to 35 percent. Voters 65 and older had the exact same level of support for Clinton, voting for her 65-35 percent over Obama.
It's a problem that's plagued Obama all year: how to make his case to seniors, who have been critical to Democratic presidential hopes in past campaigns. Can he win them over by November?