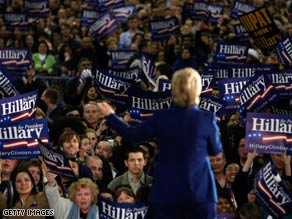 It is still not clear whether Clinton supporters are likely to throw their support to Obama.
(CNN) - Will angry Hillary Clinton supporters take their disappointment out at the polls this November by voting for presumptive Republican nominee John McCain over Barack Obama, or staying home altogether?
Roughly three out of five Clinton's South Dakota supporters said they'd vote for Obama this fall, in early exit polls. Sixteen percent said they'd vote for McCain; roughly the same number, 17 percent, said they'd stay home altogether.
Among all Democratic primary voters in South Dakota, 55 percent said the party had been energized by the long primary season; 39 percent said it had had the opposite effect.
The tough primary slog may have taken a toll on party unity – is it temporary, or will it cost Democrats dearly this fall? Time will tell.
UPDATE: One more quick note: Clinton's Montana voters were even more leery of Obama - one in four said they'd vote for presumptive Republican nominee John McCain this fall. And just over half in both states said they were not pleased with the party's evident presidential pick.
Obama has his work cut out for him – and the level of Hillary Clinton's support for him will be the big variable in this election-year equation.