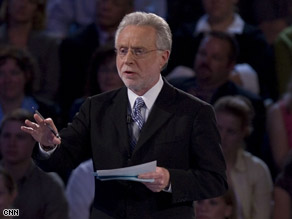 (CNN)–Democrats keep saying the same thing about their party. You hear it all the time in Washington and around the country. If they can't win the White House this year, they say, the party should seriously think about giving the whole thing up.
To back up the point, they note the horrible job approval numbers for President Bush and his administration. They also note that some 80 percent of the American people right now believe the country is heading in the wrong direction. The economy is hurting at home and the war in Iraq remains very unpopular.
A vote for John McCain, they say, is a vote for a third Bush term. He agrees with the President on how to proceed in Iraq. He also wants to make permanent the Bush tax cuts, which he actually voted against back in 2001 and 2003.
All this explains why so many of these very same clearly frustrated Democrats are having such a hard time understanding why McCain is actually competitive with Obama in the most recent public opinion polls. Our latest CNN poll of polls, our average of the most reliable recent surveys, has Obama at 47 percent to McCain's 45 percent. That is well within those polls' margins of error. Eight percent, by the way, say they are unsure who they would support.
Obama probably will get a nice bump in the polls in the coming days. That's because Democrats are starting to unite around him. Hillary Clinton, they say, is likely to be effusive in her praise once she formally suspends her campaign.
But remember – polls are only snapshots. They always change over time, and there's still five months before Election Day.