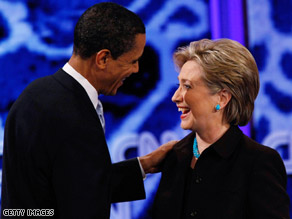 Clinton and Obama met in Washington Thursday night.
WASHINGTON (CNN) - Presumptive Democratic presidential nominee Sen. Barack Obama met with Sen. Hillary Clinton, his rival through Tuesday's primaries in South Dakota and Montana, at her home in Washington, D.C., on Thursday, according to both campaigns.
"Sen. Clinton and Sen. Obama met tonight and had a productive discussion about the important work that needs to be done to succeed in November," the Clinton and Obama campaigns said in a joint statement.