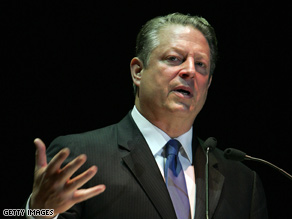 Gore has ruled out a run for any office but President.
WASHINGTON (CNN) - Democratic strategist James Carville told CNN Wednesday that former Vice President Al Gore should reprise his role as the No. 2 on a Democratic ticket.
"I think if I was Senator Obama I would say the biggest economic problem we face is the biggest national security problem and the biggest environmental problem," Carville told CNN's Wolf Blitzer on the Situation Room. "And if I were him, I would ask Al Gore to serve as his vice president, his energy czar, in his administration to reduce our consumption and reliance on foreign energy sources.
"That would send a signal to the world, to American people, to Congress, to everybody, that America's getting serious about this horrendous problem that we face."
Gore said in December that he might jump back into the political fray – but only in a bid for the top spot. A third term as vice president would mean Gore had spent more time in the office than anyone in U.S. history.
Later, the political strategist – who supported Hillary Clinton's presidential bid – admitted he'd rather see her name on the ballot under Obama's this fall. "Obviously, I would be delighted if he picked Senator Clinton. I'm trying to be provocative in one sense," said Carville.
Conservative commentator Bill Bennett dismissed the idea. "It's been said that the vice presidency isn't worth a bucket of - you know the rest of the line. To do it twice, I don't know that someone would want to do it twice. He's been there, done that." He added that Gore would probably not want to put himself "in a subordinate role" – and that Obama needed a foreign policy expert as his running mate.
Both Carville and Bennett are CNN contributors.