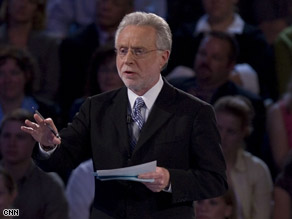 Blitzer: The economy may be the top concern - but Iraq will still shape the race
WASHINGTON (CNN) - The debate between John McCain and Barack Obama over the war in Iraq boils down to a few critical differences.
In a nutshell, McCain says the military surge in Iraq finally is working and insists Obama was totally wrong to oppose it. He says Obama also has been wrong in not visiting Iraq in more than two years and in not sitting down with Gen. David Petraeus, the outgoing U.S. military commander in Iraq, for a private briefing.
Obama says McCain's judgment is flawed because he was among those who voted to authorize the war back in 2002 and pushed for the invasion. Obama, an Illinois state senator at the time, opposed the war from the start. Obama also says McCain doesn't discuss the approximately $10 billion a month that the U.S. is spending on the war – money, Obama says, could be better spent here at home.
McCain says the U.S. can win in Iraq and return home with honor if it keeps troops there. Obama says that that the only way the Iraqis themselves will step up to the plate is to give them a timetable for a troop withdrawal.
The polls show the state of the economy is the most pressing issue for most voters right now. I have no doubt about that. Still, what happens over the next five months on the ground in Iraq will have an enormous impact on the presidential election. I have no doubt about that either.