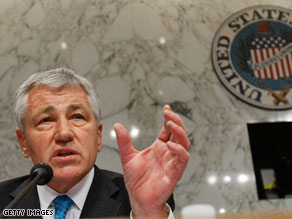 Barack Obama has already made history in this campaign, but what if he does it one more time by picking a Republican as his V.P.?
Salon.com reports about the buzz surrounding GOP Senator Chuck Hagel of Nebraska as a potential choice for Obama. Hagel admittedly is a long shot for the job, just imagine the symbolism: Obama could truly hit home the message that he's serious about changing the way Washington works by running with a Republican.
And there's no better Republican for him to run with than Chuck Hagel. Hagel is retiring at the end of his term. He has been very tough on President Bush when it comes to the war in Iraq. Last year, Hagel said President Bush was "not accountable anymore" and that, "before this is over, you might see calls for his impeachment." Hagel was also recently critical of his longtime friend, John McCain... particularly some of McCain's comments about Iran – as he attacks Obama on foreign policy. Hagel said he thinks McCain "is smarter than some of the things he is saying."
To read more and contribute to the Cafferty File discussion click here